We first met the team from Work for Good back in 2014, when Hactar was just forming. They had a remarkable idea; one of those ones you wish you'd had yourself.
Work for Good wanted to create a platform that would enable businesses of any size to give to charity. In and of itself it doesn't sound terribly revolutionary, because we can all imagine what giving to charities might look like.
Work for Good functions a little differently. The platform allows businesses to easily turn the work they're already being paid for into funding for the causes they care about. Businesses register via the website and set up a public profile, deciding fundraising targets and the charities they'd like to support. After agreeing a piece of work with their client(s), this is then added to the system. Once the work has been completed, the donation is made via the secure payment system.
It's a simple solution and it's incredibly effective. On average, as individuals, we give around £60 a year, for an SME or sole trader using Work for Good that number can be achieved without any trouble in under a month.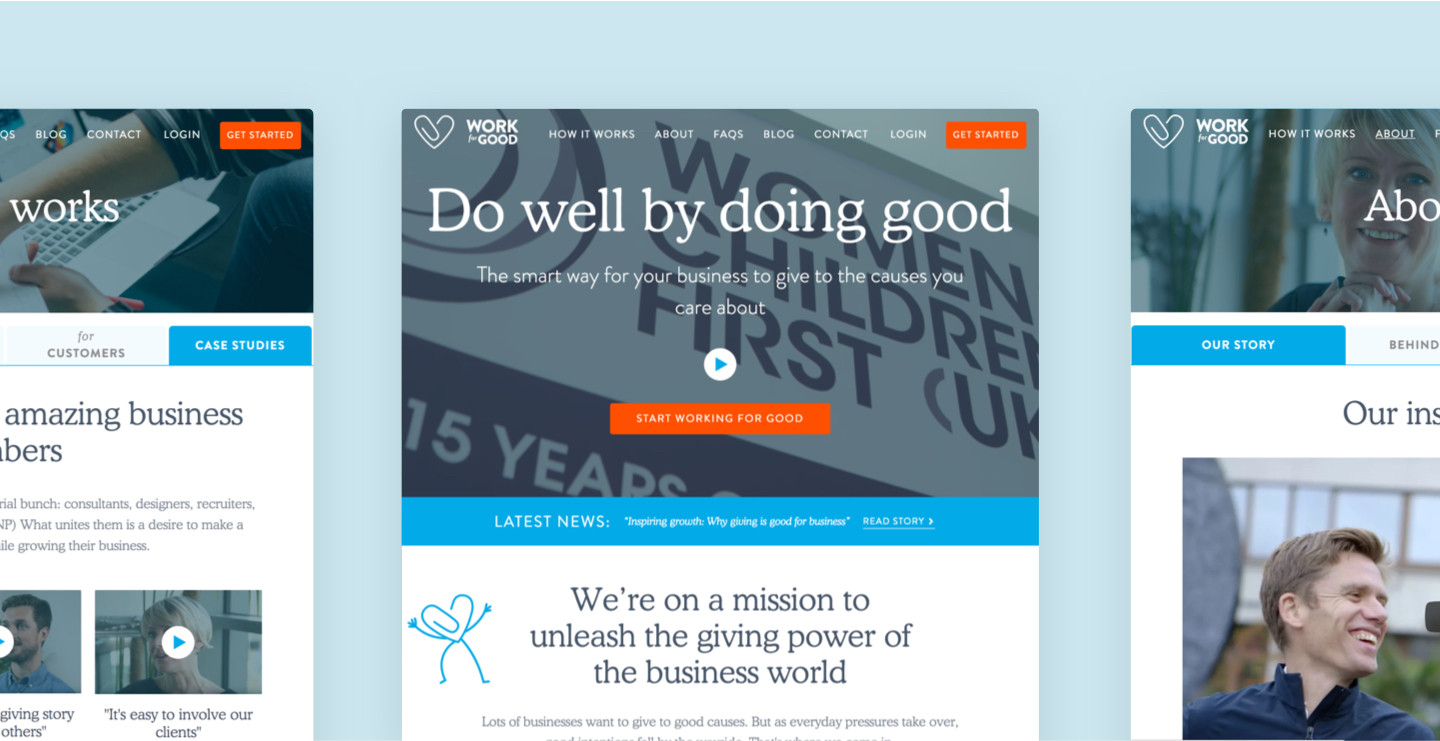 After plenty of planning on behalf of Rupert, Danny Witter, and the team at Work for Good we were tasked with designing and building the Work for Good digital platform from scratch.
As is our wont, we began with a phase of intensive workshops and user research, and ending with a polished, secure and simple-to-use web platform. Obviously it wasn't that straightforward, but we worked alongside the entire stakeholder team to rapidly validate some of their assumptions, and to challenge others.
There are four core components to the MVP launch; the public-facing brochure site explains what the service is, and showcases the organisations and charities taking part; a user dashboard, where registered businesses manage their profile - including uploading of photos and videos, setting targets, and assigning charities - with full control over the information they share publicly; the Work and donations system, which integrates with Stripe for secure, manageable payments; and the WfG admin panel, which gives full granular control over every aspect of the platform, from copy editing to payment and user management.
We continue to work with the team to expand the platform for the future, building on the work done in the initial user research, while testing and learning from the live platform.
Work for Good soft launched in late 2016 with an audience of SMEs in mind, but quickly discovered that larger corporates were keen to find out how the platform could help their businesses and staff donate smarter. They also attracted a raft of large charities with global reach, including the likes of WaterAid, Plan International, Worldwide Cancer Research, and the British Heart Foundation.